Welcome, friends!
Anyone else ready to dismiss summer and usher in fall? This has been one active hurricane season, amidst the tragedies of fallen soldiers and Afghan people, not to mention the fact we get phone calls every day that more students have tested positive for Covid.
What an age we live in, eh? But there is much to be thankful for, as always. I'm grateful for new directions and old friends. It's so nice to be back here among all of you again. It was a treat to co-host last month, so thanks again for all of your kind words.
I promised to share my notes on The Social Dilemma, and I'll be doing that soon! Since today is the first Wednesday of the month, it's also Insecure Writer's Support Group day, and writers around the globe are sharing their answers to this same question. If you'd like to join us, please do!
Just link back to the main page. You can find it here:
This month's question is:
How do you define success as a writer? Is it holding your book in your hand? Having a short story published? Making a certain amount of income from your work?
This is something I ask myself ALL the time. Let's face it, the creative path is a tough one--full of ups and downs and aimless wandering. I think this is why I find such comfort in the writing craft book, Bird by Bird. See last month's post for why.
I have a quote posted over my desk that says, "Get your ego out of the product, and into the process."
It's from Northern Exposure--Chris in the Morning. (love that show hard!) So many great quotes from him and that show, but that one in particular stuck out for me when I was rewatching the series and I wrote it down so I'd never forget it. It helps me remember that if I'm not finding success in the fact I get to create, I'm missing out on the most important thing.
That's a very philosophical way of saying, success is subjective. Fame and fortune sounds nice on the surface, but it has not been my destiny thus far, and maybe that's a good thing. I'm not a starving artist, so that's good. And while my writerly path hasn't turned out to be a financially secure career for me, I still find the joy in plotting and crafting and rewriting and everything that goes into it. Plus, I think it's only like 1-3% of writers who actually support themselves with their work.
How about you? Have you learned to find the success in the actual completion of a story, the revisions and job well done? I mean if you think about it, just getting a reader to actually finish a story we write is a HUGE success. There was a time when the only person who'd finish my story was my mom. lol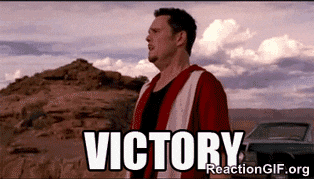 What's going on with me right now? I'm revising my TV pilot, reading two different screenplays from fellow screenwriters, plotting a delicious TV/film review blogging effort with a fellow writer, and learning how to write graphic novels. Kids are back in school in full force, work is busier than ever, but every moment is a gift.
BTW I have not updated my YouTube in a few weeks, but will return to the Responsibility & Gratitude series soon.
I'm so grateful you've stopped by today and are sharing this journey with me. If you need help brainstorming, or feels stuck in your current work, DM me, email me, or leave me a comment and I'd be happy to chat.